Rustic party decorations are all about embracing the beauty of natural materials, making for a cozy and welcoming atmosphere at your event. From farmhouse-inspired designs to simple, nature-inspired accents, these decorating ideas can help create a memorable gathering with a charming, countryside ambiance.
As you plan your rustic-themed party, consider incorporating elements like wood, twine, and burlap to give an authentic, vintage feel. Repurposed items and antiques can also lend a touch of nostalgia and character to your decor. Mason jars, wood crates, and galvanized metal accents are just a few unique ideas that can transform your party space.
Don't be afraid to get creative with your rustic decor by mixing and matching different styles and textures. You can easily find inspiration from various sources such as Etsy, which offers a selection of custom-made, handcrafted pieces, or Pinterest, where you can find numerous ideas for everything from chic invitations to beautiful tablescapes. Remember, the key to a successful rustic-themed party is to make your guests feel relaxed and comfortable in a naturally charming setting.
1. Choosing the Right Furniture
When planning a rustic-themed party, selecting the right furniture plays a crucial role in setting the ambiance. Here are a few tips to keep in mind while choosing furniture for your party:
Focus on natural materials: Rustic decor emphasizes the use of natural materials like wood, stone, and leather. Opt for reclaimed wood or handcrafted wooden furniture to bring warmth and authenticity to your party.
Comfort is key: Make sure your guests feel cozy by providing them with comfortable seating options such as cushioned chairs, plush sofas, and throw pillows. Soft, natural fabrics like linen and burlap can enhance the rustic vibe.
Mix and match for a charming look: Don't hesitate to mix different types of furniture, such as benches, chairs, and stools, for an eclectic and casual feel. You can also combine various wood finishes, textures, and colors for a unique look.
Accessorize with rustic accents: Complement your furniture with rustic accessories like lanterns, vintage suitcases, or burlap table runners to emphasize the theme. Wrought iron, wooden, or natural fiber chandeliers can also make a statement in your party area.
Remember to keep the overall setup casual and inviting, allowing your guests to fully enjoy the rustic experience.
2. Rustic Candle Holders
When it comes to rustic decorating ideas for a party, rustic candle holders are an essential addition. Not only do they add a warm and inviting atmosphere to your venue, but they also showcase your attention to detail and creativity. Let's explore a few ideas to create the perfect Rustic Candle Holders for your next party.
One idea is to use wooden candle holders in various shapes and sizes. You can find lovely heart-shaped tea light holders online, perfect for a Valentine's Day celebration or a romantic wedding. For a more simplistic look or for a cozy dinner party, opt for real wood slice candle holders.
Another option is to create your own rustic wood candle holders. Start by finding some interesting or weathered wood pieces, and then cut them at different heights to create a dynamic centerpiece. After treating the wood for bugs, if needed, drill a hole in the center to hold a candle. Optionally, you can paint or stain the wood to match your party's color scheme! Don't be afraid to mix and match, as this adds character and eclectic charm to your rustic decor.
If you prefer a more vintage look, try distressed wooden candlesticks. These unique candle holders will definitely catch the eye, making a bold statement at your party.
Lastly, natural candlestick holders made from special beech trees or other organic materials can add a touch of earthy elegance to your rustic-themed event. These handmade items are often available online and can be purchased as a set of different heights to create an interesting and dynamic table display.
Remember, rustic candle holders are versatile and can be customized to your taste and preferences. Whichever option you choose, these stunning candle holders will be a charming addition to your rustic party decor.
3. Rustic Vases
Rustic vases can elevate the atmosphere of your party and give it a warm, homey vibe. Let's look at a few simple ideas to incorporate them into your event:
Handmade Ceramic Vases: Ceramic vases with natural colors like brown or gray can bring a rustic charm to your party décor. Place them on tables or shelves, and fill them with flowers or greenery to complement your theme.
Wooden Log Vases: Adding wooden log vases as centerpieces will create a perfect rustic touch to your party. Fill them with flowers, or use them to hold candles or fairy lights to create a cozy ambiance.
Vintage French Buckets: Another beautiful option for your rustic party is using vintage French buckets as vases. Tuck a watertight container inside to keep flowers fresh, and arrange garden roses or eucalyptus for a stunning centerpiece that can be placed on tables or used as standalone decorations.
Silver Beverage Buckets: You can repurpose silver beverage buckets as vases for an elegant rustic touch. These versatile containers can hold floral arrangements or even ice and cold drinks to serve your guests in style.
When choosing rustic vases for your party, remember to:
Select natural materials like wood, ceramic, and metal
Use a mix of different sizes and shapes of vases
Incorporate greenery and flowers that work well with your party's theme
By using these simple ideas, you can effortlessly create a rustic atmosphere for your party that your guests are sure to enjoy!
4. Rustic Coasters
When planning your rustic-themed party, you can't forget about the details, like coasters. Rustic coasters not only provide a great practical function but also add a touch of charm and warmth to your overall décor. Here are some options and ideas to consider for your party.
Farmhouse Coasters: Some ideas include wooden coasters, crocheted cat and bunny coasters, and more. These items not only protect your surfaces but also serve as conversation starters.
DIY Rustic Coasters: If you're on a budget or enjoy the satisfaction of creating your own party decorations, consider crafting your own rustic coasters. Some materials that work well for this purpose include reclaimed wood, sliced tree branches, and even wine corks. With a little creativity and effort, you'll have unique coasters that perfectly fit your rustic party theme.
Remember, every little detail counts when it comes to creating the perfect ambiance for your rustic-themed party, so don't overlook the importance of incorporating rustic coasters.
5. Using Planters and Hanging Baskets
When planning a rustic-themed party, incorporating planters and hanging baskets can add charm and warmth to your setting. They bring a touch of nature to your space while enhancing the overall atmosphere. Here are a few ideas to help you create beautiful displays with planters and hanging baskets.
Repurpose old containers: Give new life to tin cans, wooden crates, or even old teapots by transforming them into charming rustic planters. Simply fill them with soil and your favorite plants. You can place these unique planters around your party area, or use them as centerpiece decorations.
Combine greenery with herbs and flowers: For a more versatile display, mix fresh herbs like rosemary or thyme with flowers such as lavender or daisies in your planters. Not only does this create a visually appealing arrangement, but guests can also enjoy the added fragrance and charm.
Hanging baskets and succulents: Hanging baskets filled with drought-resistant plants like hens and chicks, echeveria, or sedum require less maintenance and provide a captivating display. You can hang them from tree branches, balcony railings, or porch beams to add a distinctive rustic touch.
Create a vertical garden: Arrange planters on a ladder or shelves against a wall to form an eye-catching rustic backdrop. You can use different sizes and shapes of planters, as well as various plants, to enhance the visual interest.
Incorporate twine and burlap: Use twine or burlap to wrap your planters or hanging baskets for a more cohesive rustic feel. These materials not only accentuate the theme but also provide extra support for your planters.
By incorporating these creative ideas with planters and hanging baskets, you can add a natural and rustic charm to your party's ambiance, immersing your guests in a cozy and enchanting atmosphere.
6. Rustic Wall Decorations
When planning a rustic-themed party, it's essential to pay attention to the wall decorations, as they create the overall vibe for your event. In this section, we'll discuss a few ideas that can transform your space into a cozy and charming atmosphere.
One idea you can try is using wooden signs and plaques to display phrases or sayings related to the theme of your party. Placing these signs throughout your party space will evoke the rustic feel and make your guests feel like they've stepped into a countryside escape. Alternatively, wooden corbels would also do the trick nicely.
Another option to consider is incorporating natural elements, such as branches, twigs, and leaves. You can create a gorgeous wall display by hanging them in different patterns. You can also use them to craft a wreath, adding a touch of rustic charm to your event. To enhance the visual appeal, consider adding fairy lights, which will cast a warm and cozy glow.
Utilizing burlap as a backdrop is also an excellent way to bring a rustic touch to your party. You can customize this versatile fabric by adding lace, ribbons, or patterns in neutral colors. The burlap backdrop can set the scene for a photo booth or simply serve as a decorative piece behind the food or drink table.
7. Throw Pillows
Throw pillows can add pops of color and a rustic touch to your party decor, transforming any space into a cozy and inviting atmosphere. Here are some ideas for incorporating throw pillows into your rustic party decorations.
Select rustic-themed throw pillows that feature earth tones, Southwestern designs, or farmhouse-inspired patterns. Look for options with natural materials like linen or burlap for an authentic feel.
Mix and match the pillow sizes and shapes, such as lumbar and square pillows. This adds visual interest and creates a more dynamic arrangement on your seating areas.
Incorporate pillows with fun and whimsical designs, such as fish patterns for a rustic lake house theme, or abstract designs with browns, grays, and golds to reflect nature's palette.
Arrange the throw pillows on seating areas like couches, benches, and chairs. You can also create a cozy floor seating area by laying down a few oversized floor pillows or cushions, emphasizing a casual and relaxed vibe.
Remember, when decorating with throw pillows for your rustic party, the key is to stay true to natural, earthy elements, and stick to a color palette that reflects the essence of the theme. Use these tips to create a warm and inviting space for your guests to enjoy.
8. Rustic Lighting
When it comes to rustic decorating for a party, the lighting can significantly enhance the atmosphere. Here are a few ideas to inspire you in creating that warm and inviting ambiance:
Mason jars and fairy lights: Fill mason jars with battery-operated fairy lights to create a soft, warm glow. You can hang these jars around the party area or place them on tables as centerpieces.
Candles in lanterns: To add a touch of classic rustic charm, use candles in lanterns. Place the lanterns strategically around the party space or along pathways to guide your guests. For an extra touch, consider using scented candles to create a welcoming aroma.
Pulley hanging lights: Repurpose old pulleys as hanging light fixtures to bring an industrial, farmhouse feel to the space. You can attach Edison bulbs or pendant lights to the pulleys and hang them over key areas like the bar, buffet, or dining tables.
Antler light fixtures can add an authentic farmhouse vibe to your party, and serve as functional lighting at the same time!
Remember, when selecting your rustic lighting options for the party, keep safety in mind, especially when using candles or any open flames. With the right combination of lighting choices, you'll create a cozy, festive atmosphere that your guests are sure to enjoy.
9. Decorative Accents
To transform your party space into a cozy rustic haven, consider adding a few decorative accents that can easily elevate the ambiance. Remember, you don't have to break the bank to create a stylish, inviting setting for your guests.
Large Antler Anchored Bowl: This unique design element brings a touch of nature to your party. Use it as a centerpiece or as a stylish way to serve snacks.
Succulent Arrangements: Small potted succulents make for great accent pieces placed strategically throughout your party. You can even use them as party favors for your guests to take home!
Rustic Wall Art: Get creative and crafty with DIY projects using reclaimed barn wood or salvaged pallets. Turn them into wall decor or gallery art, giving your space a unique, personalized touch. Browse through sites like Pinterest for some DIY inspiration.
Be sure to experiment with various elements and tailor them to your desired theme, whether it's farmhouse chic, woodland charm, or something in-between.
10. The Farmhouse Theme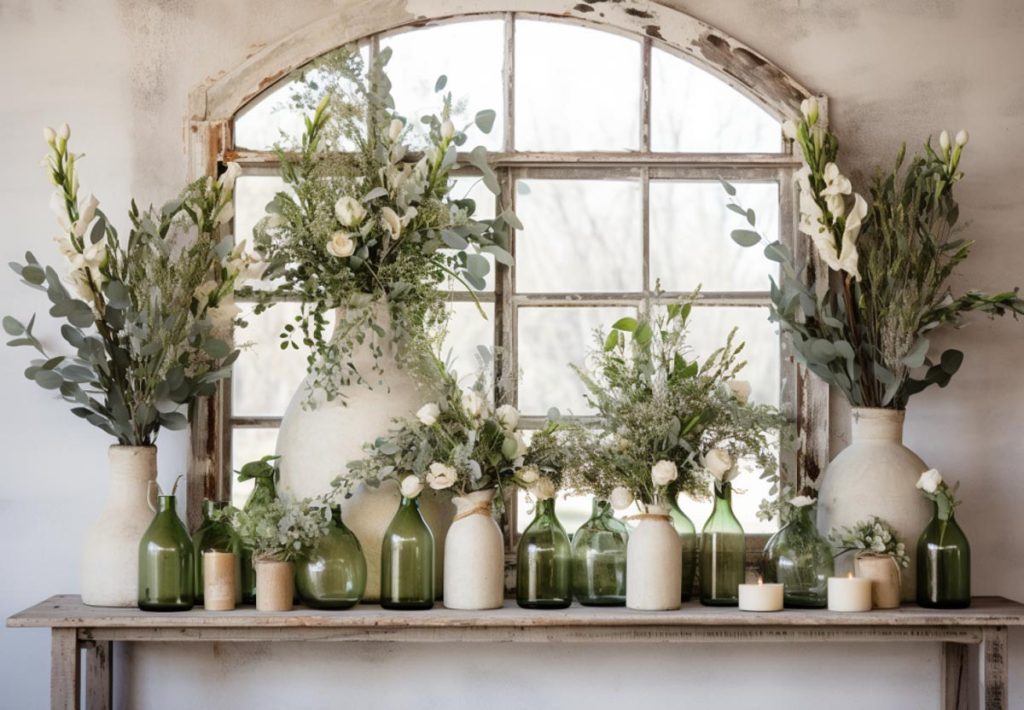 Throwing a party with a farmhouse theme is a wonderful way to bring rustic charm to your event. With a focus on natural materials and cozy atmosphere, this decorating style can transform any space into a warm, welcoming environment for your guests.
To create an authentic farmhouse vibe for your party, start by incorporating raw and rustic materials such as wood, metal, and textured fabrics. Use wooden pallets or reclaimed wood as backdrops for your food and drink stations, and arrange seating with benches or hay bales for a truly rustic feel. Metal elements such as galvanized buckets, watering cans, and old milk jugs can be used as decorative accents or even as functional beverage coolers.
Incorporate soft, natural textiles like burlap table runners and linen napkins to add warmth and comfort, and use woven baskets to hold items like utensils and napkins for an added touch of farmhouse chic.
A key aspect of farmhouse decor is the use of nature in the design. Add fresh greenery and flowers everywhere you can – think sprawling eucalyptus garlands, lush bouquets of seasonal blooms, and even a few potted plants scattered throughout the space. Use muted, earthy tones in your color palette, with pops of deep greens and rich burgundies to accent the natural beauty of the decor.
Remember, the key to achieving a successful farmhouse-themed party lies in the attention to detail. By carefully curating a mix of rustic materials, nature-inspired accents, and vintage treasures, you'll set the stage for a memorable event that leaves your guests feeling like they've stepped into a charming country home.