You can be assured of a curated selection of high quality, on-trend items that don't disappoint.
Rustic Decorating
Embracing Natural Beauty At Home
Rustic decorating is an increasingly popular choice for those looking to give their home a rustic, cozy feel. This style of decor involves using rustic and natural elements, such as wood, stone, metal, and textiles in their interior design. It often features natural, muted colors and handcrafted furniture pieces that bring warmth and comfortable vibes to any space in the house. If you're interested in rustic design but don't know where to start – no worries! We've got you covered with an abundance of rustic decor ideas, as well as products to get you the rustic touch to make a great first impression on guests in your home.
What Is Rustic Style And Where Does It Come From?
Rustic decorating is traditionally associated with country-style dwellings, log cabins, and farmhouses. This style of home decor embraces the natural textures of wood, stone, and metal, as well as earthy colors and patterns inspired by nature.
Rustic decor is believed to have its roots in the rustic furniture popularized by American Colonials, and was later adapted by early settlers of the United States in the 19th century.
The rustic vibe has become significantly more mainstream in the present day, with many homeowners choosing vintage elements to create a cozy and inviting atmosphere. It is easy enough to also still incorporate modern touches, with the right pieces and a little bit of creative knowledge when it comes to rustic decor ideas.
With a wide variety of rustic-style products available, there is simply no excuse to not create an interior space in your home that is truly unique and special.
Featured Products
Notable rustic decor accessories that can help add a touch of country charm to your home include a bold statement piece, vintage textiles placed deliberately on sofas, and an accent rug for one's floor. These are just the tip of the iceberg- our featured products have many options that will help you achieve the rustic look for your entire space.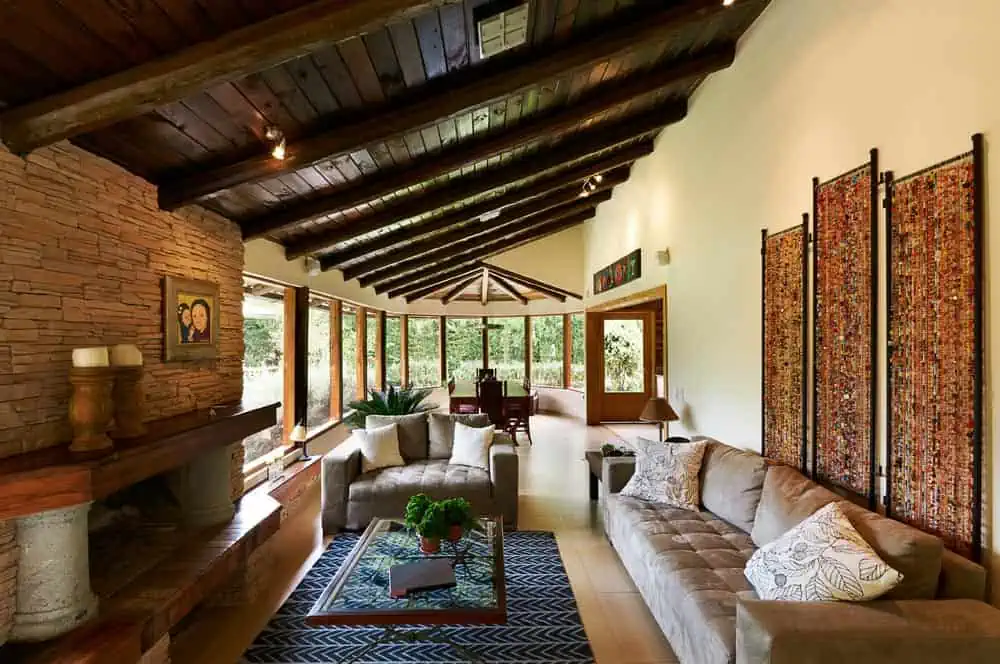 Rustic Decor Examples By Room
By incorporating farmhouse elements into the different rooms of your home, you can create a beautiful and inviting atmosphere that will make guests envious. Just in case you need help coming up with ways you can decorate your living space, these rustic decor ideas for each key room of your house should get the wheels spinning!
The living room is often the first room that your guests will see in your rustic-style home. Try adding wooden furniture such as a side table, nature-inspired textures to your entryway, a vintage coffee table, or antique textiles such as jute rugs and burlap pillows. The living room is also the perfect place for an antique furniture piece such as a fireplace, which can also be a great conversation-starter.

The master bedroom often is the cherry on top of one's rustic-style home atmosphere. Wood pieces such as a bed frame or dresser, antique lighting fixtures, textiles such as quilts and blankets, and rustic wall art for the door can be the perfect addition to any sleeping room.

The kitchen has the potential to take a modern farmhouse look to a whole new level. Furniture such as rustic wooden cabinets, a kitchen island, or cooking shelves can be useful as well as practical.

Farmhouse-style decor is the perfect choice for introducing warmth and rustic charm into any dining room. Furniture like a dining table made from reclaimed wood, metal chairs, rugs with natural colors, worn-out cabinets, or even exposed brick walls can create an inviting atmosphere that will make you forget about the food on your plate. You can also feature rustic decorations such as antler candlesticks, wrought iron pendant lights, pottery pieces, or wall art to give your space some added flair.

Give your bathroom a rustic makeover with whitewashed wood cabinets, vintage tile floors, country-style vanity mirrors, as well as weathered faucets and fixtures. Using white paint on the walls also looks good in any rustic-style bathroom, and can especially match stone tile floors for a very polished look.
Home Decor Items
Interior rustic decor is all about bringing the natural state of the outdoors inside your house. Home decor items such as wood beams, woven baskets, decorative accents, and statement pieces can help bring that country charm you crave to your dream living space. You may find more rustic decor ideas below by browsing some of our unique products.
What is modern rustic design?
Modern rustic design is a term used in interior design to describe the combination of modern style as well as rustic elements. It can be a tall order to create a home that feels both contemporary and classic all at once- literally! Many folks enjoy incorporating high ceilings that include natural elements, such as exposed beams made from reclaimed wood. This is also where a modern sofa can meet rustic simplicity such as stone walls or other vintage styles that utilize natural tones.
You will see that many rustic interiors have furniture items that set them apart, such as a weathered coffee table in the living room or cozy linens in the bedroom to provide a soft texture. The trick is to make your rustic space unique, in addition to using a modern edge- we are here to give your home the rustic charm you desire, without sacrificing comfort from your interior design.
From Our Blog
A candle holder, also known as a candlestick, is an essential accessory for those who enjoy the ambiance and warmth…

As the leaves change color and the temperature begins to drop, many homeowners seek to incorporate the warm and inviting…

Farmhouse decor has surged in popularity over the past few years, thanks to its cozy and comforting aesthetic. This style…